Scrapbooking - Acid Free Storage Boxes
Scrapbooking is the hobby or craft that relates to the combination of various items of family history, newspaper clippings, magazine articles, photos and other memorabilia into acid free custom-decorated albums, or scrapbooks or boxes.
Scrapbooking is about you and your personal family history. Its about adding meaning to photos, over and above the visual image that you see.

Its about truly being able to relate and relive past times.

As an activity it specifically focuses on the preservation of memories that are in some way evident in all those items that you keep. Combining them in an album or some other form adds very special meaning to you and to other members of your family.
The Acid Free Archive Storage Set compliments this activity, because it allows you to combine not just your custom made and treasured scrapbook, but it allows you to store other items and artefacts that you just cannot store in a flat or album format . You may keep an item of clothing, a video, a newspaper, a baby's shoe, a book or any number of other items that have very special meaning to you and your family.
The Archive Storage Set uses the same archival criterion that are required for good scrapbooking, simply because they share the common aim of preserving your memories for generations to come.

It can be used as a structure for you to personally decorate using conventional scrapbooking supplies or you can use the scrapbook frames that are included within the set. These Frames can be use on the Lids of the boxes or for your albums. In this way you can really add a special character to this set of boxes. You could even theme the boxes for an event or a person.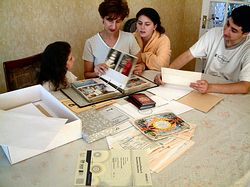 Keeping you memories safe is about preservation, but its also about real meaning and value . You may keep an old concert ticket and store it safely, but who would know why you kept it?

This is true of so much of what we keep at home and this is why your Family History, Genealogy and scrapbooking and all the memorabilia that you keep are all expressions of who you are and represent the value of your life. Life expressed in the form of memorabilia , artefact , photo's etc .
See also our Acid Free Photo Storage Box Set

The Memories and Nostalgia Collection is your treasure chest of memories ,that brings all of this together.