Monday 15th January 2007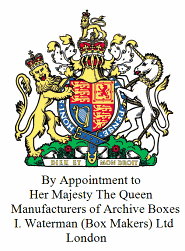 A Royal Warrant of Appointment for
I. Waterman
(Box Makers) Ltd
We are delighted to announce that that as a leading manufacturer and supplier of cardboard products, our company has been granted a Royal Warrant of Appointment as a Tradesman to Her Majesty The Queen.

The Warrant took effect from 1st January 2007 and has been approved for the next five years. The appointment came as a result of
I. Waterman (Box Makers) Ltd, having been a direct supplier of Archive boxes to the Royal Household since 2001.

The I Waterman (Box Makers) Ltd, name is synonymous with the highest standards, with the company supplying acid-free storage materials to many of the world's leading museums and archives.
David Waterman, great-grandson of the company's founder, and current head of the 110-year-old firm, said he was humbled by the award of the Royal Warrant:
"This most prestigious of endorsements is the ultimate affirmation of the quality of our products.

From a personal point of view, it is also a tremendous inspiration. We are proud to supply storage products to the Royal Household and delighted that our products are an integral part of the preservation of items which may eventually form a part of this country's history and heritage.

There could be no greater honour or privilege."
For more details, visit the Royal Warrant Holders Association website