Family History Books
Who Do You Think You Are?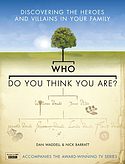 By Dan Waddell - This is an accessible and modern guide to the hugely popular art of tracing your family history.
Published to tie in with the BBC2 series, the book is packed with practical guidance on locating records and researching different eras and topics.
It also includes celebrity histories and a directory of the best current Internet resources.
See more details on Who Do You Think You Are?
Tracing Your Family History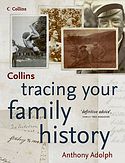 By Anthony Adolph - The book was nominated Runner Up in the Family History Book of the Year 2004-2005 competition run by Ancestors, the magazine of Britain's National Archives.
The Book gives detailed explanations of all the records you will need for research in the British Isles, from General Registration to manorial records and heraldry, including some tips on dealing with ancestral ghosts!
It also looks at how to extend your family tree up branches that came from overseas, including the Caribbean and India.
Buy "Tracing Your Family History" in our secure online store.
Family History Activity Books
In a fun, easy way, these Family History Activity books will help you to capture all the great stories of this generation… before they're lost forever!
Want to write your own biography, but don't know where to start? Simply answer the questions in one of our books and it will write itself!
Want to give a unique gift that will mean more than money could buy? Just a few minutes each day will help you create a priceless present that will become a much-treasured family heirloom!
Want a unique present to give the person who has it all? Give them a Priceless Treasure, either complete with your story, or blank for them to complete themselves with the story of their life! After all, who doesn't like talking about themselves?…