Scrapbook Storage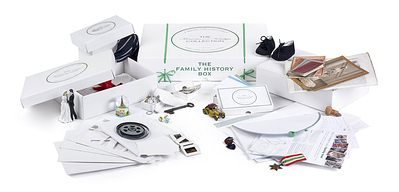 When it comes to Scrapbook Storage - The Family History Box collection is ideal.
"Scrappers know how vital it is to store everything properly for the future. They also know there's lots they can't fit into their album pages, so a set of professional, acid free boxes is just what is needed for archive quality storage. "The Family History Box" is a selection of six different sized boxes, archive tissue paper, photo mounts, box name cards and ribbons new from I Watermans." ... Scrapbook Inspiration.
The Family History Box is:-
large enough to store your Scrapbook as well as all those other treasured items you cannot fit into your album.
Contains photo mounts for scrapbooking
Is ideal for storing all your scrapbook supplies.
The boxes can be decorated in your own personal style.
It also makes the perfect gift for all your friends who are into scrapbooking.
Buy your Scrapbook Storage solution in our secure online store.
Also see our Photo Storage Box
and our Acid Free Archive Storage set